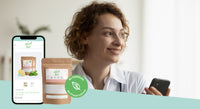 Get in touch today.
At The Fresh Test™, we are passionate about natural options and healthy pregnancies. Please reach out to our team with any of questions, comments or product reviews.
Patients- First, congratulations to you! Second, we realize that the glucose load test is performed during a specific window of gestation. If you need your order rushed or have questions around The Fresh Test's ingredients, please email cailee@thefreshtest.com. Whether you are doing the 1-hour, 2-hour, or 3-hour glucose test during your pregnancy, we are here for you!
Providers - The Fresh Test™, an additive-free glucose beverage, is frequently stocked at physician offices, laboratories, and wellness stores.  At this time, patients pay out of pocket for this natural option, or HSAs provide reimbursement. You are welcome to wholesale pricing on boxes of 10 and 30.  If you have higher volumes or need tiered discounts, GPO, or LabCorp pricing, please email us @ info@thefreshtest.com.  You may also reach out if you'd like copies of our Certificates of Analysis from FDA Approved Manufacturers and ISO 17025 Laboratories. Fresh Test, LLC is an FDA Registered Glucose Beverage intended for diagnostic screening.  The product is not considered an alternative but rather an additive free, 50-gram, 75-gram and 100-gram GTT.  Please email us today for a sample at info@thefreshtest.com. If you do not hear back from us, please search your spam folder.